With the widely use of terracotta façade cladding, Terracotta Baguette as special terracotta façade elements have become increasingly appealing to architects. They offer an excellent combination of both functionality and aesthetic appeal as shading and design elements. Terracotta baguettes are usually in the shape of tube with square, rectangular, triangular or oval cross-section. Multiple profiles and limitless colors of terracotta baguettes make themselves integrated naturally and artistically with both the whole building exterior wall and the interior decoration.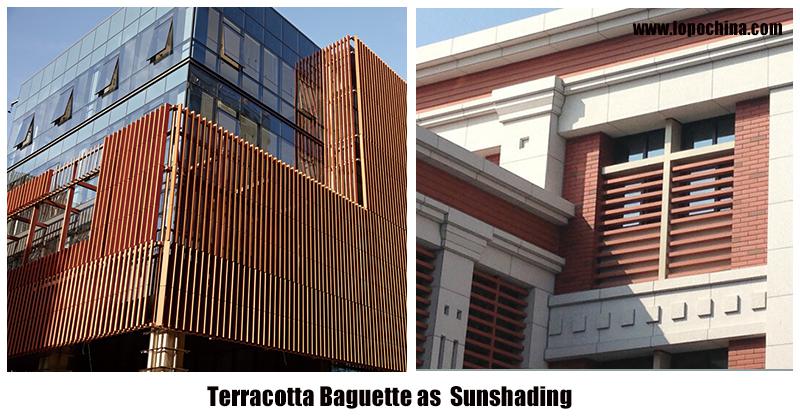 Baguettes used as shading elements
Terracotta Baguettes are usually used to cover window areas or in front of glass façades. When applying in window areas, natural light and enough air ventilation for indoor can be ensured while using as shading. The Terracotta Baguette with oval cross-section can be installed at different angles for achieving an ideal sunshading effect. They also ideally fulfill the requirement of sunshading and design aesthetic for the overall façade cladding when used in front of glass facades.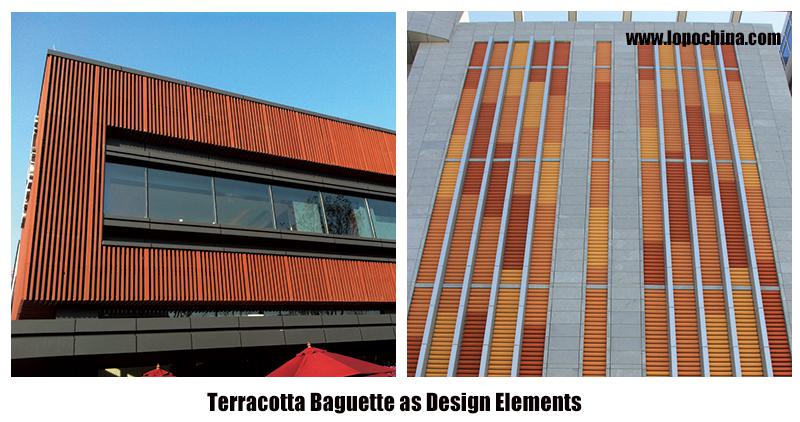 Baguettes used as design elements
Baguettes can be used as design elements going with different façade surface like terracotta façade cladding, natural stone curtain wall, glass facades. Natural feel, multiple shapes and boundless colors make baguette either an important role in the overall façade design or embellishments integrated harmoniously with façade surface.
Baguettes are also an ideal product for covering some specific area or facilities, like ventilation appliance or substation equipment, which will ensure harmonization for the overall project.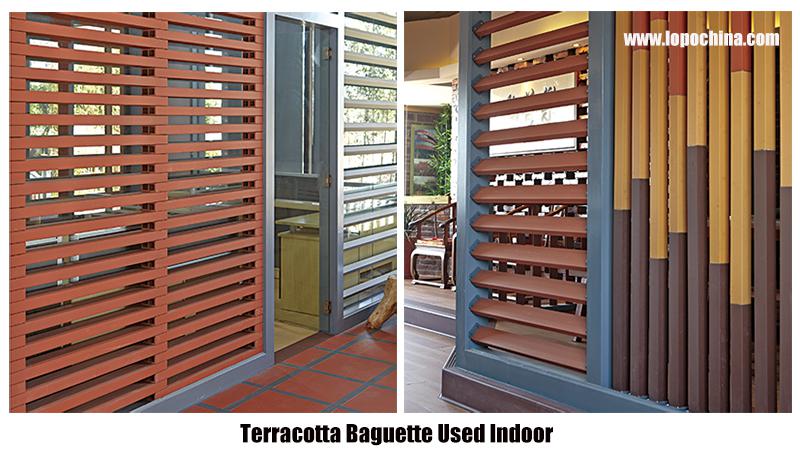 Baguettes used indoor
Terracotta baguettes are good options used as Partition elements indoor which can be a special decorative elements and also keep a certain privacy at the same time. Natural color and multiple patterns of Terracotta Baguette can create different visual effects.





LOPO China has wide range of Terracotta Baguette products in common shapes and cross-sections. Baguettes for specific projects in the color and shape desired by the customer are also available. Quick link for more LOPO Terracotta Baguette.

Features of LOPO Terracotta Baguette

Dimensions:

Length: Max. 1800mm

Height: Max. 100mm. The most commonly used size is 50mm.

Width: Max. 200mm. Special dimensions are available on request.

Shape:

Special shapes or profiles are available on request.

The most commonly used shape is square, rectangular, triangular or oval cross-section.

Wide range of colors are available on request.

Surface finishes: natural, glazed.