Thin Brick

LOPO Thin Clay Brick
Thin brick serves as a lightweight and versatile brick siding material that place no additional burden on the building's structure. LOPO thin brick is an extruded kiln-fired brick veneer made from natural clay, which gives the appearance of full-face brick. Hard firing in kilns provide thin brick with durability and high performance that make them suitable for exterior and interior applications in any climate. LOPO thin brick, adheres to strict production standards, can be used in different construction types and applications (include precast). We offer customized service for specific project including wax coating, cutting and grinding.

As we started from a clay thin brick manufacturer, this is our most classic architectural clay product. With decades' continuous research and innovation, LOPO thin brick is available in a wide variety of textures, colors, sizes and shapes options. Metallic Series and Handmade Series are two most outstanding LOPO brick tiles series. Metallic Series radiate natural cast iron-like color on the brick surface. This color results from metal oxides being reductive during firing and has very special visual effects. Hand-molded thin brick is pressed manually to form unique and diverse textures; those irregular textures make the entire exterior wall more natural and aesthetic pleasing.
Dimensions For LOPO Clay Thin Brick:

Thickness: 11 mm – 30 mm

Length: 145 mm - 300 mm

Height: 30-90 mm

(Note: length, height and thickness of clay thin brick flats shall be proportional.)

Brick is manufactured with ribbed back or dovetailed back.

Corner brick option: extruded or bonded corner.

Corners and edge caps are available for each series.
Thin Clay Brick Tiles Surfaces and Textures
Thin Brick Colors
The color of the thin bricks is carefully adjusted by our engineers through different formulations and carefully configured temperature of the tunnel kilns, making it natural and long lasting. The thin brick color palette is available in white, yellow, red, brown, grey etc. It can be fine-tuned to create an infinite offering of color ranges. In addition to single tone and blends, we can also provide flashing surfaces, which give each brick a unique color distribution. Given samples from our customers, we can also match to produce products with similar colors.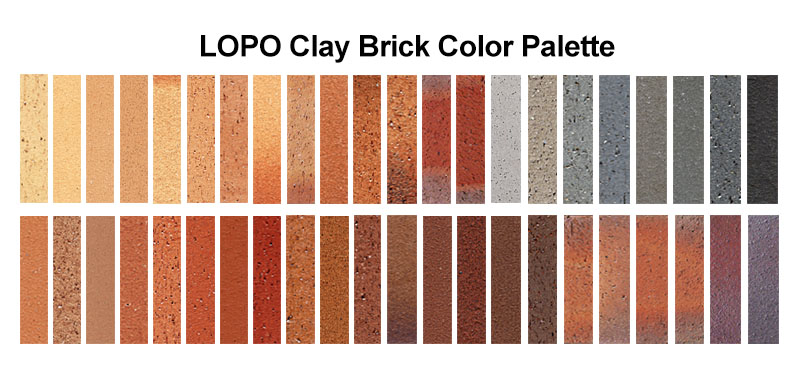 Thin Terracotta Brick Features and Benefits
1. Our bricks are extruded thin bricks. Unlike cutting thin bricks from the full bricks, our products are eco-friendly, resource-saving, and more economical than full bricks.
2. Thin bricks feature an easier installation process and a lower installation cost than full bricks. They can be used anywhere indoors or outdoors.
3. Thin bricks are made of natural clay. Fired at high temperature, they have good physical properties and weather resistance, making it more durable and easier to maintain than other decorative materials.
4. Our bricks come in a wide range of tones and surface textures, making it possible to render a classic all-brick look for both commercial and residential projects.