LOPO Terracotta Project: Huludao Campus Library of Liaoning Technical University (LTU)
Architects: Architectural Design and Research Institute of Harbin Institute of Technology (HIT)
Site area: 17,300 square meters
Floorage: 20,000 square meters
Location: Huludao, Harbin
The library is located at the intersection of the north-south and east-west axes of the campus. The south side of the library project is facing the campus gate while the west side is echoing with the secondary entrance of the campus in a distance. The east side is an open greenery landscape with a relatively flat site. The main function of the project is a modern library of 20,000 square meters above ground, with a collection of 800,000 books and 2,400 seats.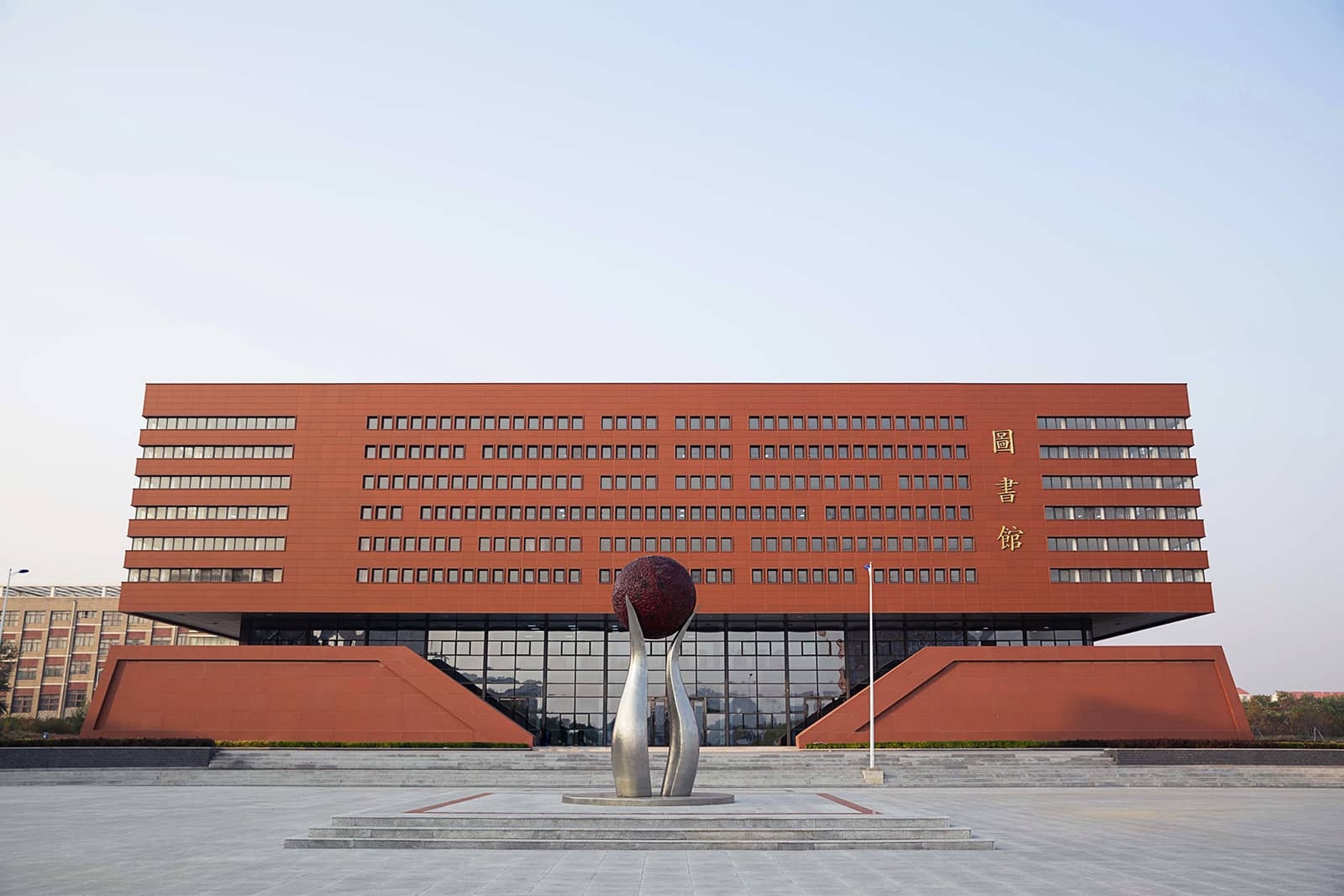 As the library is located at the very heart of the campus and faces the constraint of a relatively small amount of land for construction, its location and harmony with the existing buildings is the first challenge faced at the beginning of the design phase. The designers followed the design principles of "perfect integration into the campus, rational layout, eco-friendliness and good cost-effectiveness", and simplified the design concept by adopting the most basic square shape to address the holistic design issues of layout, function and image of the building. The library features a complete square volume, with an absolutely symmetrical appearance on both the north-south and east-west axes.
The overall layout of the library is compact and reasonable. It is a modern, self-service style, recreational and multi-functional library that brings together the function of an information resource center, a study and research center and an academic exchange center. The first floor houses a dense bookstore, business rooms and a 300-person lecture hall whereas the second floor serves as an enquiry center and a four-way sightseeing platform. The third to fifth floors are used for reading and office.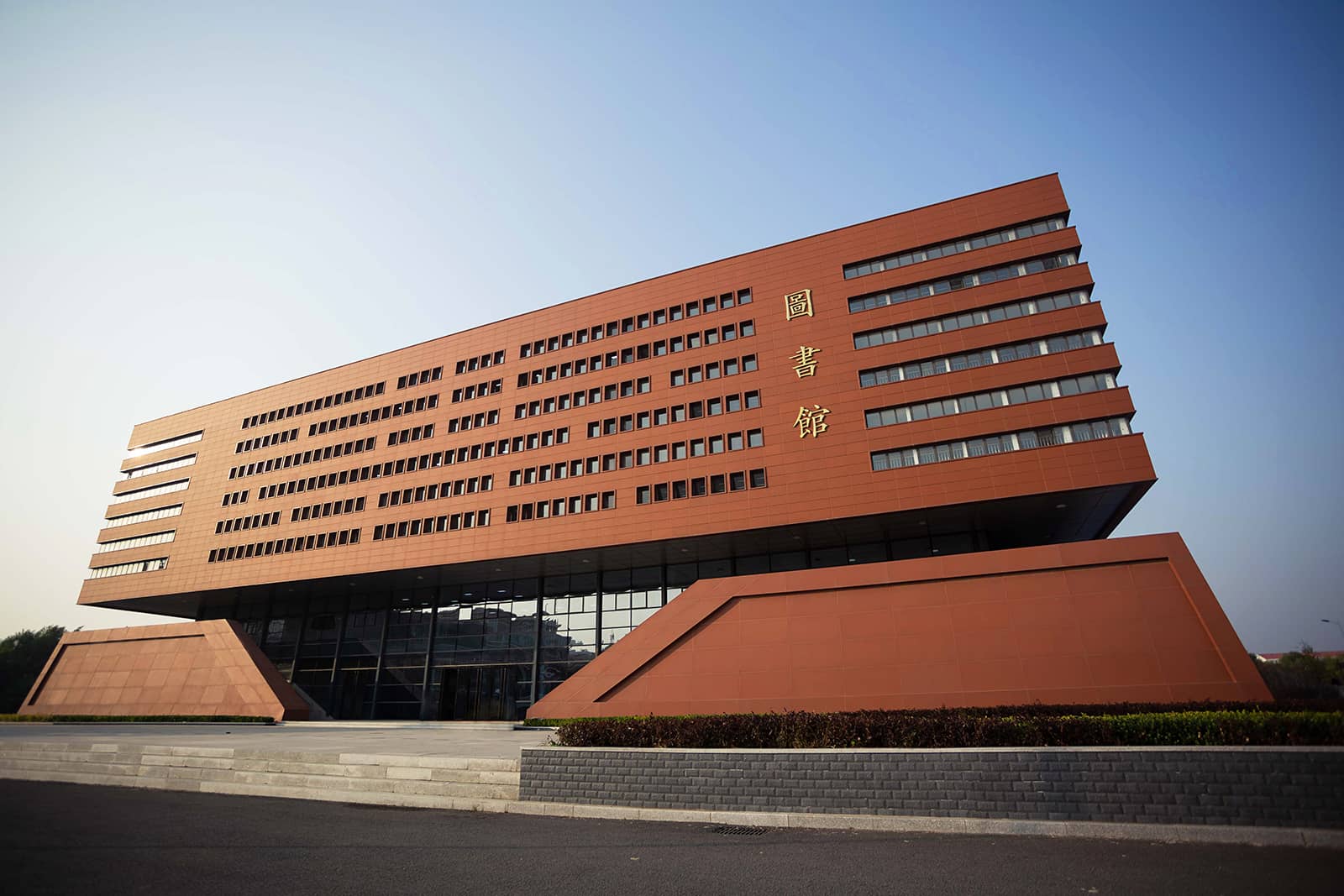 On the façade, the library is painted in the traditional Chinese color of vermilion. The ground floor of the building takes the form of a four-sided trapezoidal base, which is built with terracotta-like texture aluminum curtain wall, supporting the entire building stably. The glass curtain wall on the second floor provides maximum transparency, allowing for a visual link at the heart of the intersection of the two axes. Meanwhile, the natural shading effect created by the inward receding form prevents glare when sightseeing. As for the typical floor, the core and auxiliary spaces are integrated to form functional modules arranged inwards, leaving all light to the reading area while maximizing the use of space and light. Above the third floor, the façade is cladded in LOPO's red Terracotta Panels with fluorocarbon painted aluminum flashings of the same color for window section. The window openings are also designed in a regular square shape, while taking into account the comfort of lighting. The windows are made smaller to achieve a softer lighting effect while maintaining the window-to-wall ratio.
With its minimalist square shape and simple yet heavy terracotta texture, the library symbolizes "a red mark of LTU" of with Chinese cultural charm in the entire campus landscape.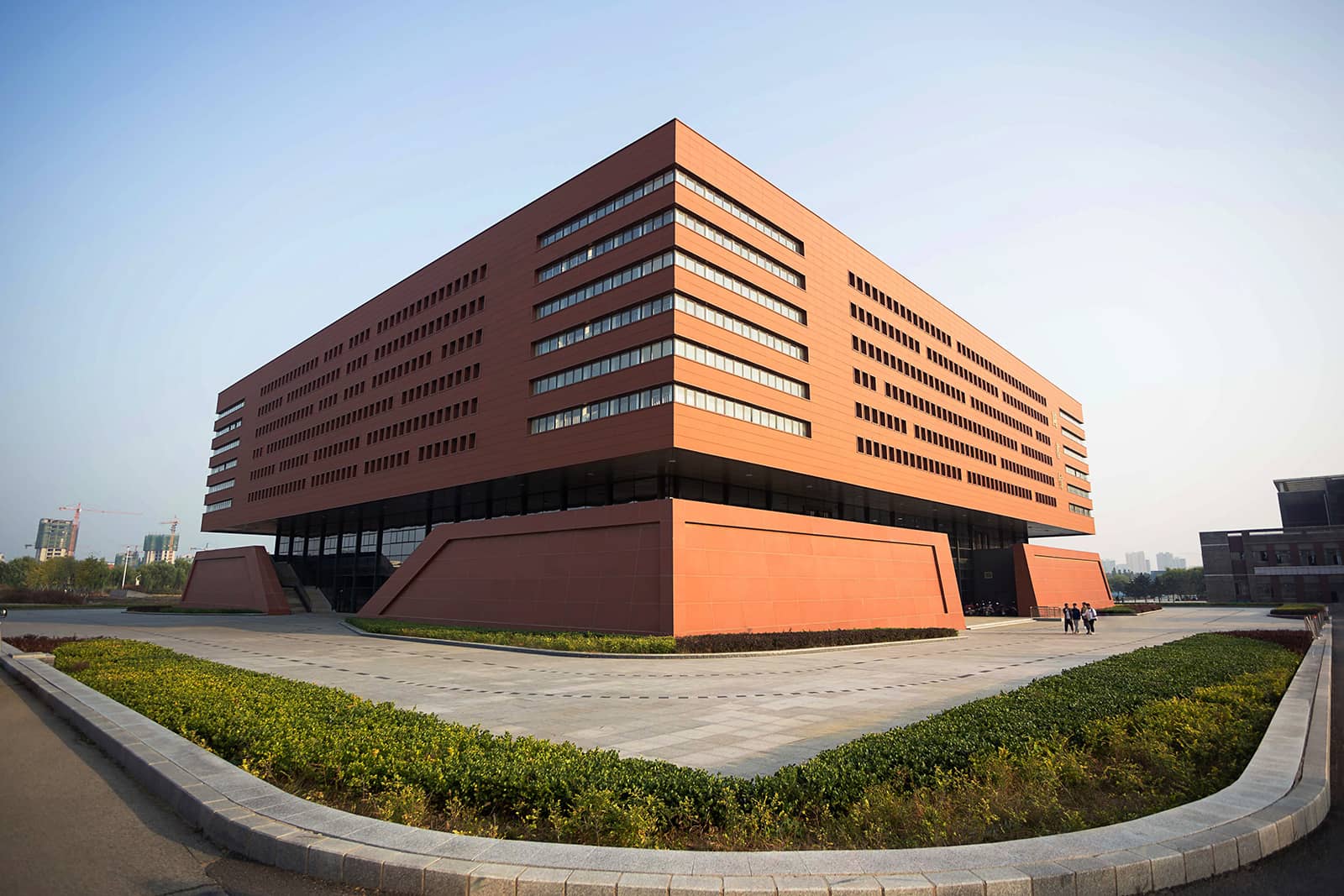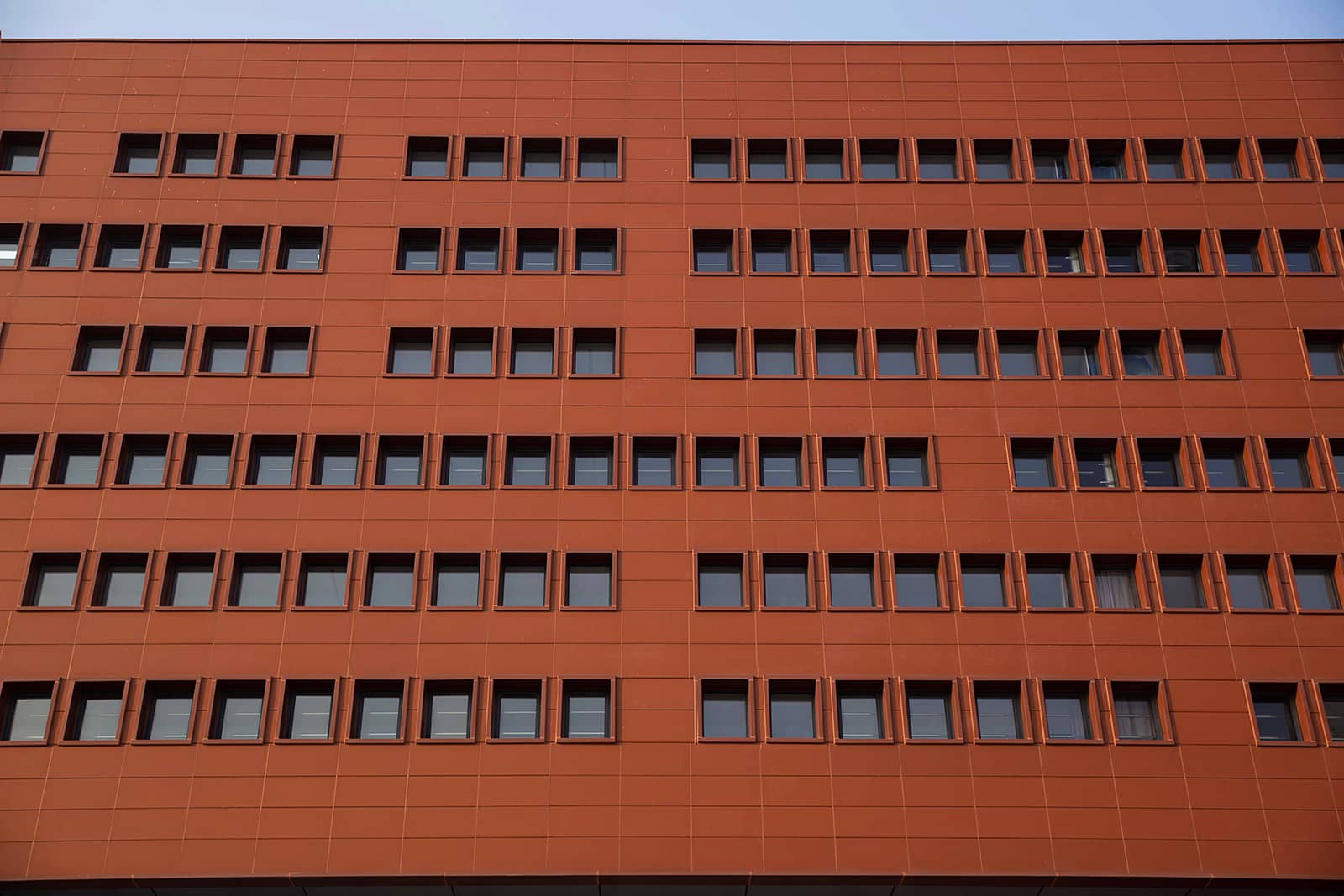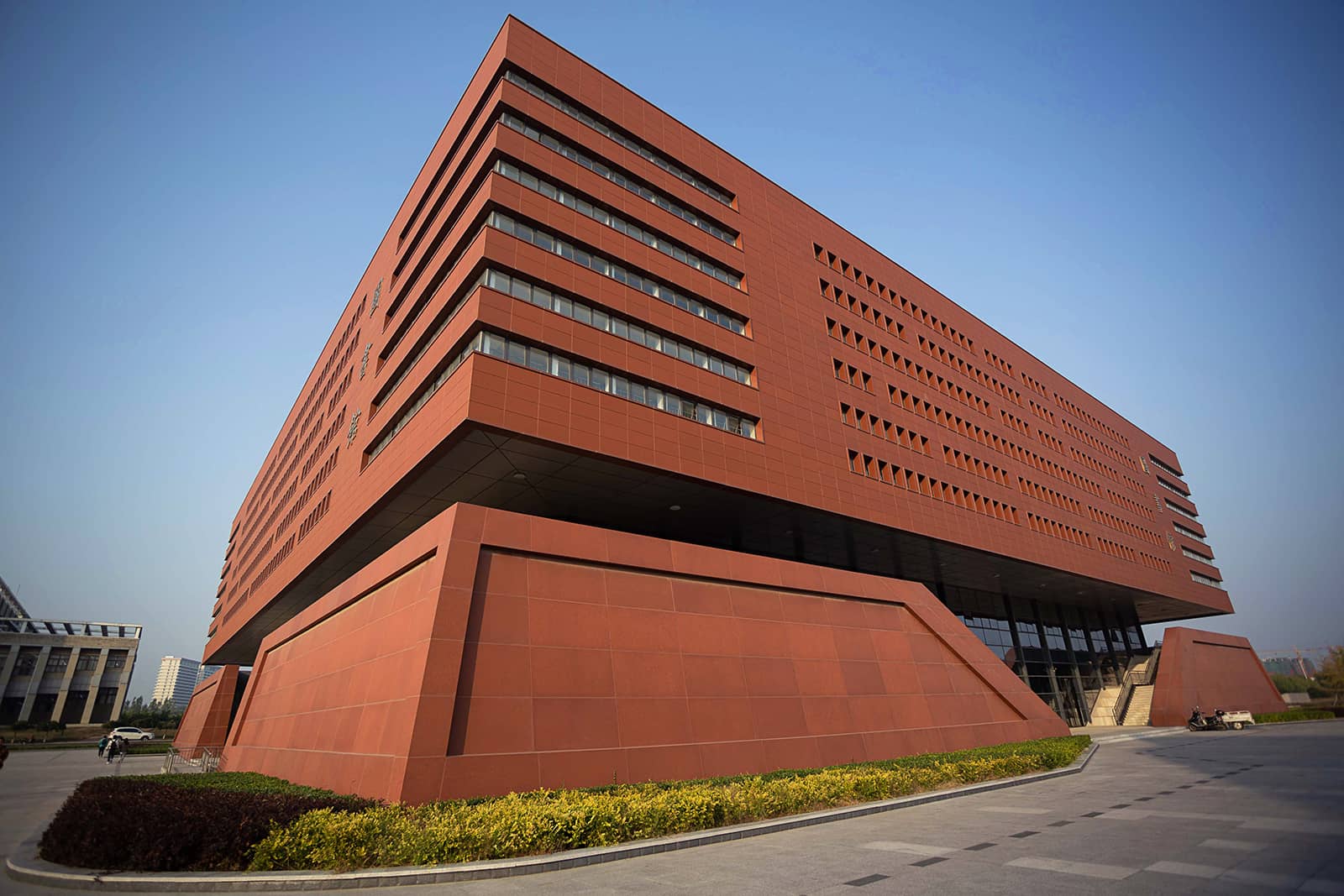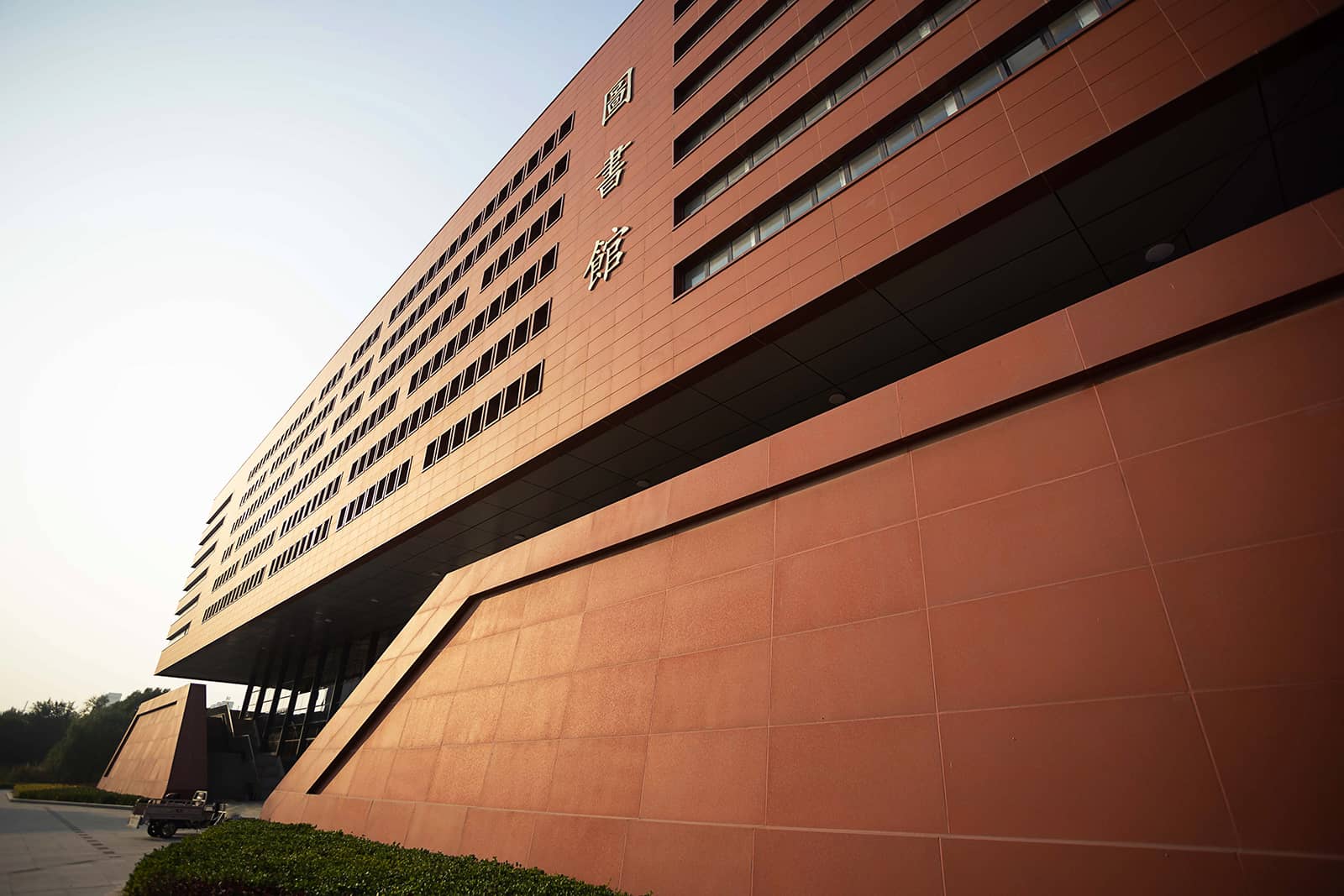 All rights reserved. No part of this article may be reproduced or retransmitted in any form without prior permission of www.lopochina.com