Terracotta Rainscreen

How does LOPO Terracotta Rainscreen Facade System Work?
Unlike conventional construction walls that try to avoid the water penetration by focusing on eliminating the openings, LOPO rainscreen system is a back-ventilated facade system based on the rainscreen principle.The complete terracotta rain screen cladding system include open joint rainscreen panels, supporting system, ventilated cavity and inner skin (insulation and vapor barrier). The ship-lapped open joints allow air to circulate behind the terracotta cladding to help balance air pressure in the cavity, getting close to pressure equalization for inside and outside air. Also the supporting system incorporates the gaskets for vertical joints to prevent the rainwater penetration and help to drain the water away from cavity behind. Thus, the majority of the wind-driven rain and snow cannot enter into the cavity due to overlapping joints and lack of pressure difference. A small amount of water penetrating the joints can be evaporated during the air flow or dripped down and out the drain openings.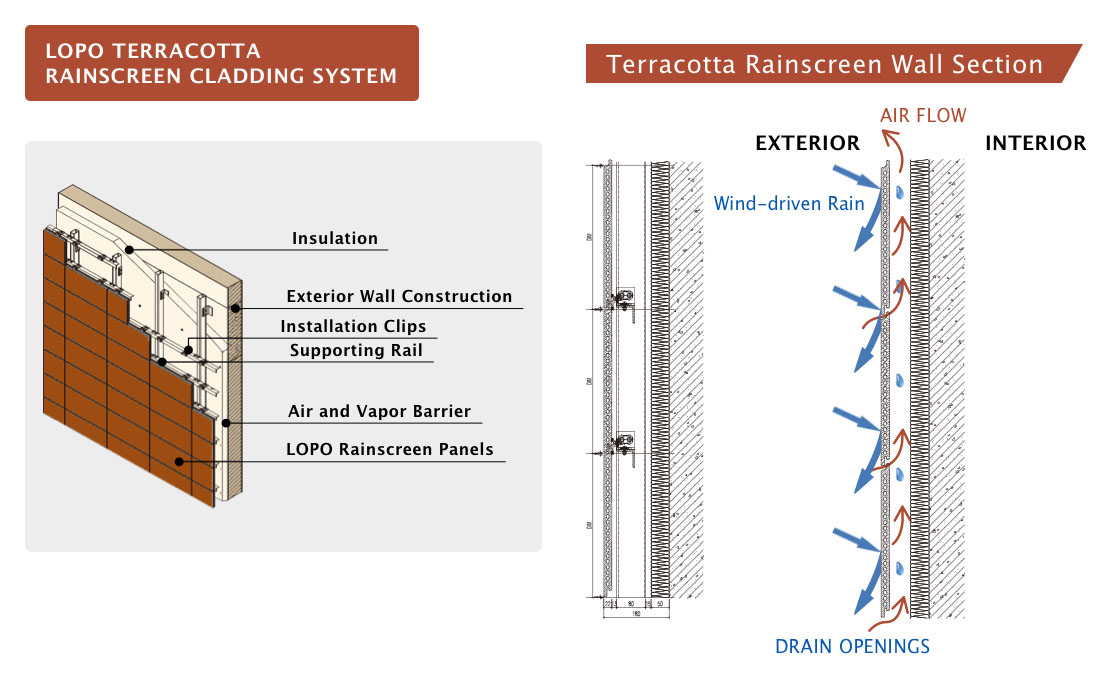 Benefits:
LOPO ventilated terracotta rainscreen system are the great combination of high-quality terracotta cladding and pressure-equalized cavity wall system, having the great advantages of this advanced rainscreen facade solution.
Ventilated Curtain Wall System
1. Protect the structural wall from bad weather and extend the lifespan of the buildings.
2. Moisture can be carried away by the flowing air behind the panels, which will help to maintain a dry cavity and eliminate mold and mildew.
3. Thermal benefits that reduces energy consumption.
Suspended Facade System
1. Fast installation. Easy replacement of single panel without removing the whole stack.
2. Mortar-free system can be installed in almost all weather conditions.
3. LOPO terracotta façade system can be custom designed according to projects situation.
Terracotta Facade Panel
1. Rich colors and shades are created by high temperature in the firing kiln, which are natural and long-lasting.
2. Durable and maintenance-free. Great performance in breaking strength and free-thaw resistance.
3. Wide options of format, profile, texture, color.
4. Made of natural clay material and can be recyclable.
LOPO Terracotta Rainscreen Panels

Abundant profile, format, texture and color are available. Custom profiles and special elements can be developed upon request. Click here for the detailed introduction of our terracotta cladding panels. Click Here
LOPO Terracotta Rainscreen System

LOPO Rainscreen System can be custom designed and engineered according to the real situation of projects. Click here to check the common supporting structure of LOPO Rainscreen System. Click Here