Terracotta Panel

Terracotta Panels are one of terracotta cladding materials, which are usually made of weathered clay, extruded from vacuum chamber and fired in high-temperature roller kiln. As an old but also new facade material, terracotta panels are known for its design flexibility, durability and sustainability. Its enriched colors, textures and shapes that offer architects limitless options to realize a building's design aesthetic.
LOPO can provide terracotta panels of different thickness, dimensions, shapes and profiles, based on curtain wall structure design, installation system, facade design, wind load and other requirements. Based on the installation approaches and applications field, LOPO terracotta panel can be categorized into 2 types of cladding panel: Solid Terracotta Tile and Terracotta Rainscreen Facade Panel.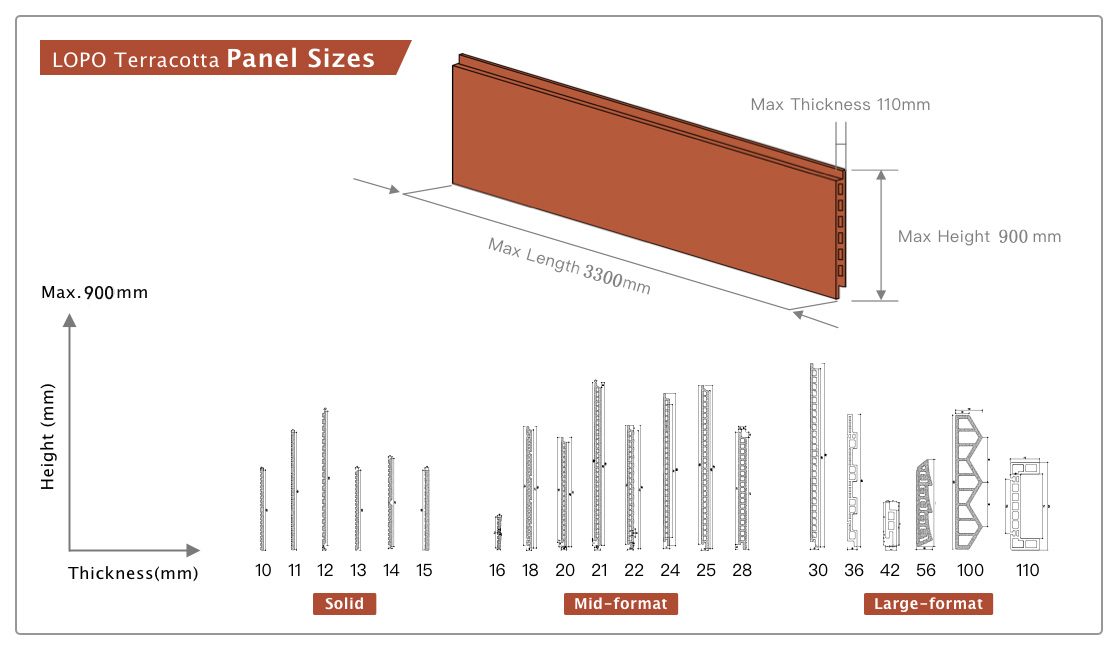 LOPO Solid Terracotta Tile
Thickness: 10 mm – 15 mm
Length: 100 mm - 1200 mm
Height: Max. 600 mm
Mass per unit area: approx. 21.5 KG/SQM (Thickness: 10 mm)
Terracotta Solid Tile is thin and light-weight cladding material that is ideal for precast construction looking for a terracotta facing appearance. This series can be installed by pasting cement or using mechanical fixing system. Solid terracotta element boded onto precast concrete panel usually has a dovetail profile on the backside to ensuring a high-strength bond between the concrete and the terracotta facade. LOPO provide solid tile with either straight side or a shiplap rainscreen joint. It imposes less pressure on wall structure, so it is an ideal terracotta facade for interior wall or low rise exterior walls.
Click here for LOPO Solid Terracotta Tile Series.
LOPO Terracotta Rainscreen Facade Panels
Thickness: 15 mm – 100 mm
Length: Max. 3300 mm
Height: Max. 900 mm
Mass per unit area: approx. 50 KG/SQM (Thickness: 30 mm)
LOPO terracotta rainscreen facade panel is thicker and double-skin terracotta cladding product with horizontal overlapping joints. Terracotta panels are part of the overall terracotta rainscreen cladding system that works as the exterior facade. They are supported by the engineered framing and fixing clips. The rainscreen system is a ventilated and pressure-equalized system which utilize ship-lapped open joints and complete drained system to ensures equalized pressure between inside and outside of terracotta panels and avoid the water penetrating into the building envelopes, and therefore protects the structural wall and saves energy. LOPO customized rainscreen solutions provide both structural versatility and aesthetics for each project.
Click here for LOPO Terracotta Rainscreen System Details.
LOPO Textures & Finishes
LOPO terracotta panels come with a wide range of custom and standard natural fired colors and colorful glazing. Different finishes & textures are available, such as sandblasted, stripped, honed, wood texture, wavy. Special surface treatments are also available, such as micro-graving, 3D ink-jetting. Therefore, LOPO terracotta panels can perfectly express architects' design concepts and vividly show different facade styles and effects for different buildings.
LOPO Standard Colours
LOPO terracotta panel series with natural colors are created by using high-quality natural clay, complex mixing process and firing technique with precise temperature control. The natural fired colors cover a wide range, including all the colors with various shades and tones which are based on five basic colors of white, yellow, brown, red, and gray. These are through-body colors and stand well to the test of the time and various climatic conditions. When LOPO's terracotta plates are used, the building's facade demonstrates long-lasting excellent performance in terms of color and surface.