Long Brick

Long Clay Brick
Long bricks, also called Roman bricks, are long format clay bricks with a length of more than 500mm (19.69 inch). This special size makes itself a unique form of expression for contemporary brick buildings in addition to color and texture. These slender bricks have great potentials of creating limitless aesthetic effect when installed in different staggered dimensions, different depth or bond patterns. Because of the high performance in durability, sustainability and functionality, clay bricks have been using as facade material in construction industry for centuries. Now the long brick give this classic product a new vitality and design possibilities.
LOPO Clay Long Bricks Range
LOPO long brick series includes long thin bricks and long facing bricks. Regardless of its thickness, the length of the brick can be customized within the range of 550 cm. Both products have matching corner bricks (extruded or bonded corners).
There are dovetail grooves on the back of the long thin brick, which can be closely attached to the wall and it will not fall off easily. LOPO long thin brick is suitable for both civic and residential building projects when used either as conventional brickwork or precast cladding. With various textures, colors and bonding solutions, this slender bricks can create a special visual effects on any kinds of buildings.
Whereas the long face brick are generally made into solid or perforated brick with different thicknesses as required by the customers according to the brickwork system.
Regular Dimensions of Long Bricks
Long Thin Bricks: Length 500mm x Height 40mm x Thickness 15mm
Long Facing Bricks: Length 500mm x Height 42mm x Thickness 60mm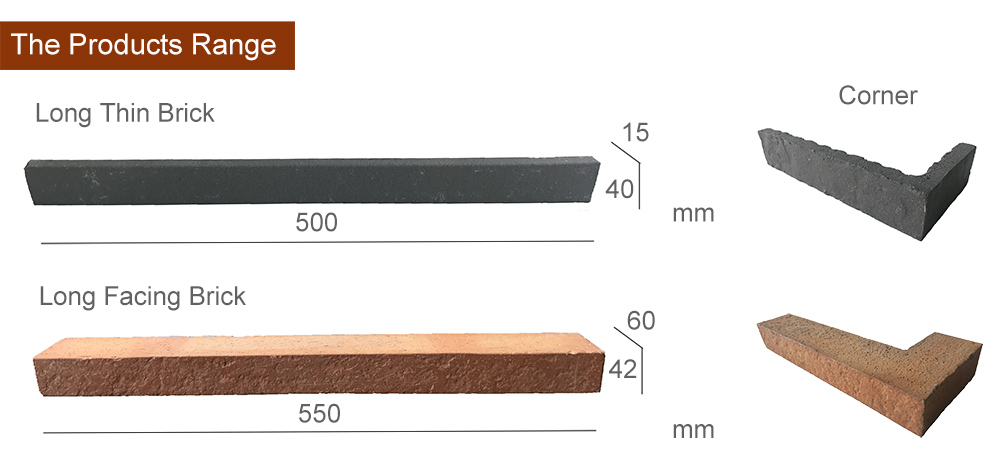 Long Format Brick Surfaces and Textures
In addition to the regular natural flat surface, LOPO's extruded clay long bricks can also provide a very personalized handmade texture. With traditional wooden or metal molds, and purely manual processing, different shades of random texture are created on the bricks' surface, and the surface color can be processed to deliver an antique or weathered effect as required. Handmade texturing is more natural than the one achieved through fully automated drum tumbling, which is widely used.
The colors and finishes of our thin bricks can also be applied to the long bricks. When blending bricks of different shades, its result on the facade is more impressive.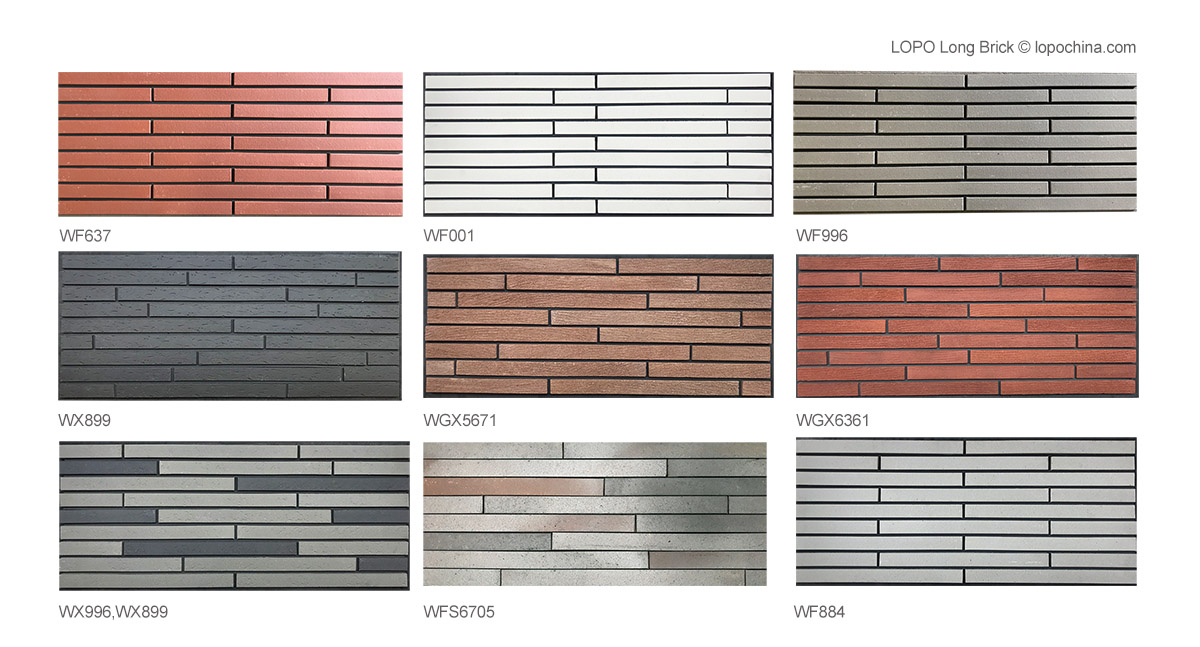 Advantages of Long Bricks
1. Aesthetic
A strong sense of design, better than concrete-made products in terms of architectural visual expression and product texture.
2. Sustainability and maintenance-free
After high-temperature firing, architectural clay products have low water absorption which makes these bricks highly resistant to freeze-thaw cycles, so that they are anti-weathering and anti-corrosive. Their colors retain the same throughout years. Once correctly installed, no further maintenance or services are needed.
3. Resistant to fire
Clay long bricks are fired at high temperatures so that the material itself is fireproof.
LOPO Long thin bricks are linear clay veneers used as conventional decoration or precast cladding for exterior and interior walls.

LOPO long facing bricks are long-format solid wall bricks with various textures and colors to express a unique architectural horizontal design.