Different from LOPO's Terracotta Façade with hollow chamber cross-section, LOPO's Solid Ceramic Tile (also known as Light Ceramic Plate) is solid and light, with its thickness less than 15mm. This kind of tile is less weight-burden on the wall structure and can be flexibly cut to the desired length and width, and into special shapes as required by the architectural design. It is easy and flexible to install, either by using wet cement paste or mechanical fixing system. It is ideally used as decoration for low rise building's external walls or interior walls.
Features of LOPO Solid Ceramic Elements
LOPO's Solid Ceramic Tile is normally 10 mm, 11 mm, 12 mm, 13 mm or 15 mm thick, less than 600 mm wide, and less than 1200 mm long.
The edges of two adjacent tiles can be overlapped or parallel.
The underside of the tile can be ribbed or combed for installation with wet cement paste. Grooves for different mounted façade systems can also be extruded on the back of the tile during production process.
Tile surface can be smooth, sandblasted, textured, peeled or glazed.
LOPO Light Ceramic Projects
Project:Hangzhou Tide Building
Item No: LX770
Dimension: 115x600x15mm
This project is a 3-story villa. The building's external walls uses brown solid ceramic tile manufactured by LOPO. The slim strip of tiles with linear surface or grooved surface perfectly match the light white stones. When used in the building's top story, window sills and door frames, the tiles make the external walls simplistic and elegant.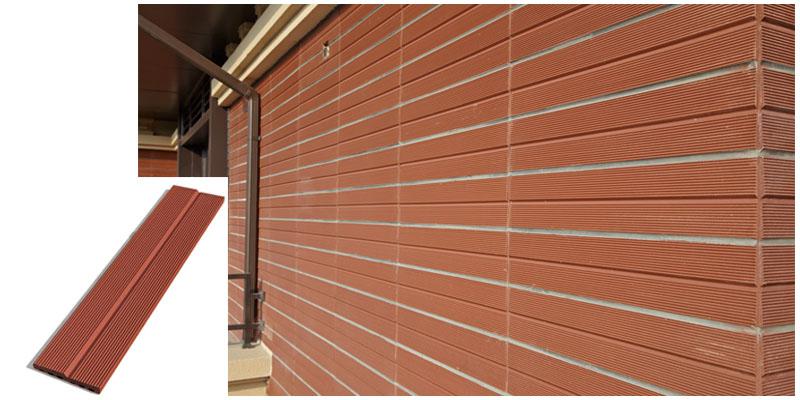 Project:Dalian Vanke
Item No: L776,L883,L886
Dimension: 192x600x10mm
This project randomly arranges brown solid ceramic tiles and gray solid ceramic tiles that both vary in color intensity. Pieces of tiles are like many small color blocks on a canvas, random but harmonious, making the external walls full of vibrant colors.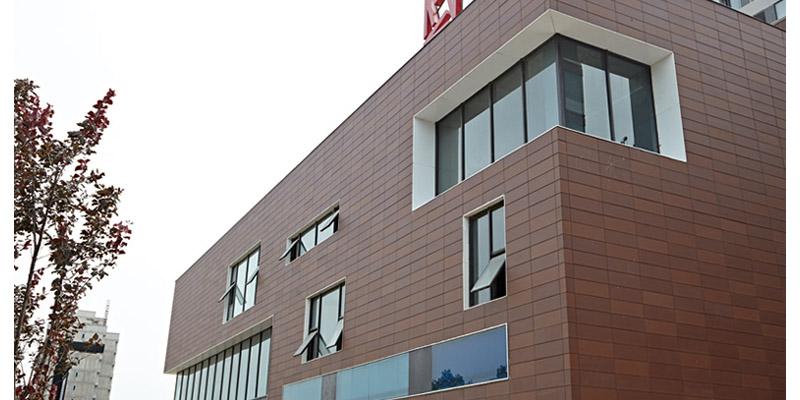 Project:Wanlinhu Apartment,Guangdong
Item No: L3013636
Dimension: 300x600x13mm
The project use aluminum alloy plates and glass as the mainstay materials for curtain walls. The architectural designers use deep red light ceramic plates to enclose the curtain wall areas, which together with the light and shadow brought by the glass, makes the external walls bright and modern.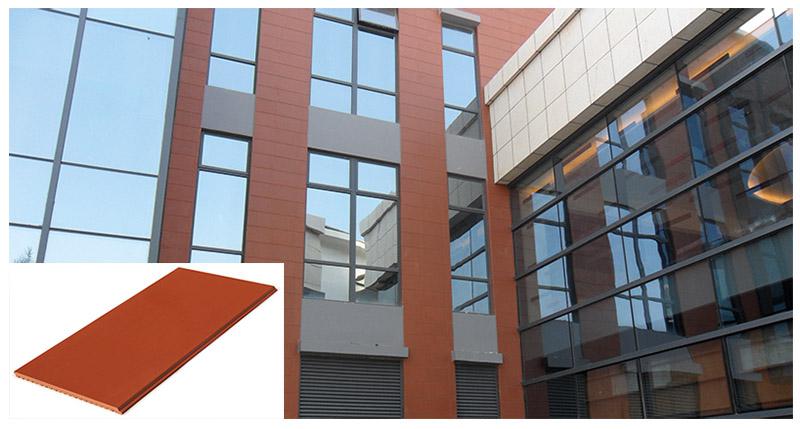 All rights reserved. No part of this article may be reproduced or retransmitted in any form without prior permission of www.lopochina.com