Terracotta Panel has been widely used in educational institution ever since this special wall cladding material was invented. Excellent functional and decorative features make Terracotta Panel suited for educational institution like school, college and library.
Firstly, terracotta panel is of great function like sound insulation, water proof, heat insulation, anti-freezing, fireproof etc. Those characteristics are especially important for educational institutions.
Secondly, the colors never fade out due to the environmental-friendly material and high-temperature firing procedure. Besides, the color of Terracotta Panel is very natural, highly-varied which offers architects more options catering for culture atmosphere.
Thirdly, Terracotta Panel can be applied in both exterior wall cladding and interior decoration together with constructional materials such as aluminum alloy, glass and Terracotta Louver to endow a building with distinctive design taste.
LOPO terracotta façade panel has been applied in many educational projects at home and abroad.
Project: Shingu University in Korea
Item NO.T505064 Size: 50*50*1215 mm
Item NO.F301864 Size: 300*1215*18 mm
Korean architect applied Terracotta Panel and Terracotta Louver together to create a simple and peaceful style of teaching building. The whole building presents an unbelievable mildness and gentle view when the sun shining on the Terracotta Panel. Meanwhile, the terracotta louver applying in this building are having functions of ventilation, sun-shading and concealment.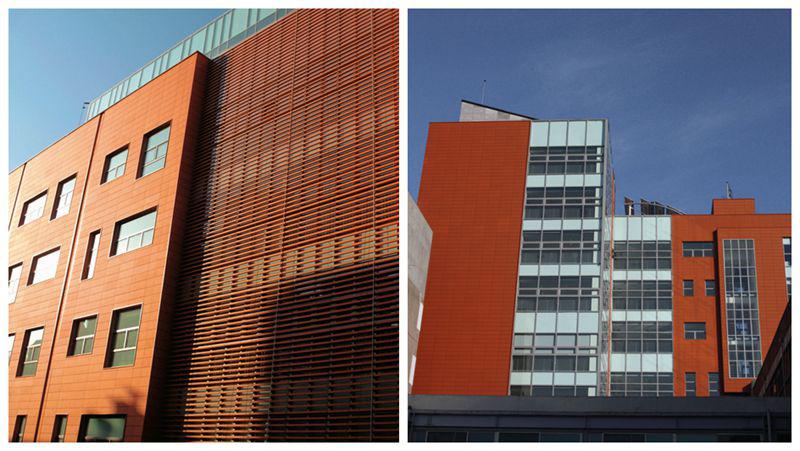 Project: XM University (Xiangan Campus)
Item NO.FR32 Size: 120*300*12mm
Architects of this project use mixed wall cladding material including terracotta tile (light Terracotta Panel), natural stone, glasses and aluminium panel to create a mixed style of stately and modern at the same time. Different from traditional red brick, light Terracotta Panel is harmonious with other material in this project.