Name of the Project: Nanhu No.1 (Changsha)
Gross Floor Area: 112,328.5 m2
Owner of the Project : Hunan Dongyi Real Estate Investment Co., Ltd.
Architectural Design Unit: China Machinery International Engineering Design & Research Institute
This project is located in the intersection area formed by the main urban area of Changsha, the Xiangjiang River which has the most diverse ecological resources, the scenic belt along the river and the Southern Suburb Park. It is an architectural project integrating superior apartments, bustling shops and private clubs. According to the architectural layout, the project consists of three high-rise buildings, forming a half-enclosed architectural complex facing the Xiangjiang River. According to the project planning, the project is a small commercial and residential complex, with two buildings to be used as finished residential apartment buildings, and another to be used as a high-end boutique complex building, and an additional sunken plaza.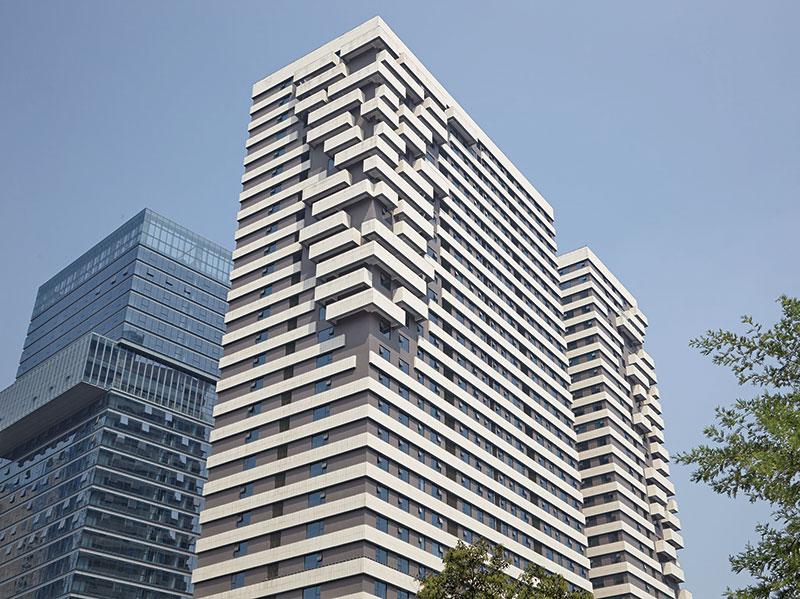 The conventional design concept of China's real estate complex is that the residential buildings have a distinct design from the commercial buildings in the same project. Different from that concept, both the residential and commercial sections of this project are designed by applying the design method for public architectures, thus enabling the buildings with different functions to be mutually integrated and contrasted. For example, the glass bay windows deliberately designed in
the facade of the residential buildings absorb the commercial element and therefore become an embellishment of the facade of the residential buildings.
The overall facade combines creamy-white terracotta plates with glass curtain walls. The residential buildings are enveloped with vertically installed terracotta curtain walls, with the classic mixture of gray and white colors and the thick texture of terracotta plates radiating the temperament of elegance and calmness, therefore balancing the cold expression of the glass curtain walls of the commercial buildings.

The architectural facade design focuses on the combination and variation of the shape, and the overall styling adopts the concave-convex and virtual-real comparison between the lines, surfaces and bodies, which bestows rich gradations of light and shade on the facade and reflects briskness, vividness and grandness of contemporary buildings. In particular, the irregularly designed balcony area at one side of the upper part of the residential buildings and their Terracotta Cladding seem like almost-assembled architectural components, bringing about the instant futuristic feelings.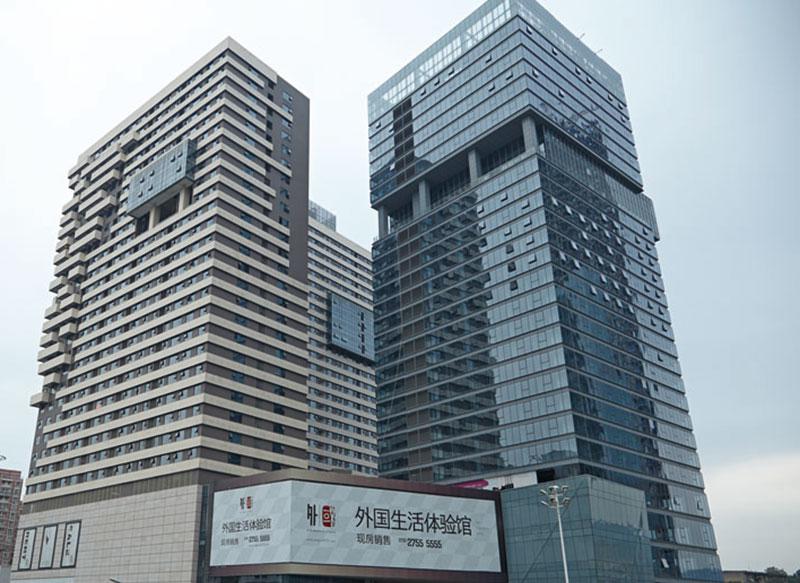 All rights reserved. No part of this article may be reproduced or retransmitted in any form without prior permission of www.lopochina.com